12.02.2019
Now it's official! We've signed a new record deal with ROAR - rock of angels records! We're really excited about this new collaboration and extremely thankful for this great opportunity!
Pic by Laszlo Prucz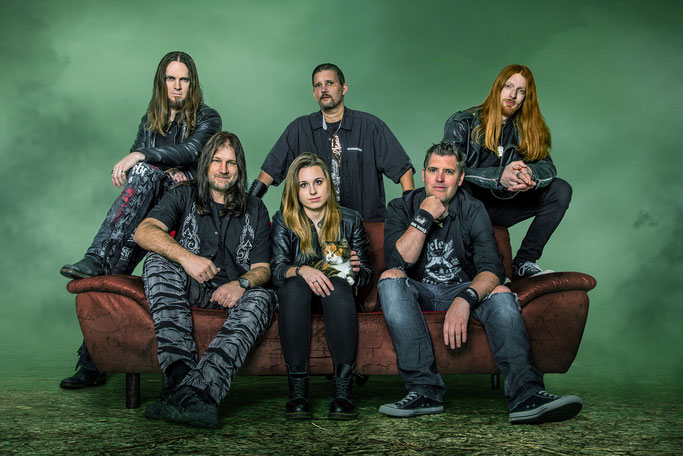 ---
31.10.2018
Na bravo, jetzt haben wir den Salat! Pünktlich zu Halloween haben wir durch unsere Teufelsmusik versehentlich das Tor zur Hölle geöffnet und die Apokalypse heraufbeschworen. Das Böse ist zum Leben erwacht und macht nun Jagd auf uns. Die 4. Episode unserer ach so braven Doku-Soap EMERALD TV wird dadurch zu einem blutrünstigen Horrorfilm! Ob wohl jemand von uns aus diesem Schlammassel lebend rauskommen wird?
Seht selbst... wenn ihr euch traut! Aber seid gewarnt, die folgende Episode ist definitiv nichts für zartbesaitete Turnbeutelvergesser! 
Da die Episode in Schweizerdeutsch gesprochen ist, stehen bei Bedarf deutsche und englische Untertitel zur Verfügung.
Special Guests in dieser Episode: Steve "Maiden" Decorvet, Karen Weinmann, Nadia "Schubi" Weinmann & the Zömbels
---
13.06.2018
Obwohl wir bei unseren Videodrehs immer sehr seriös zu Werke gehen, haben sich nach 3 Episoden EMERALD TV, einem Musikvideo und ein paar Konzertpromos dennoch einige Patzer eingeschlichen...
---
22.05.2018
Kennt ihr das, wenn ihr als erfolgreiche Band ständig interviewt werdet und dabei immer die selben nervigen Fragen beantworten müsst?
Wir auch nicht! 😜
Nichts desto trotz beantworten wir hier in der 3. Episode von EMERALD TV, exklusiv für euch, ausführlich und "ehrlich", die 10 meist gestellten Interviewfragen.
Da die Episode in Schweizerdeutsch gesprochen ist, stehen bei Bedarf deutsche und englische Untertitel zur Verfügung.
Special guests in dieser Episode: Lea Klein, Jvo Julmy, Fluffy Ass Moonster, the Emerald Chicks & Dudes
---
24.04.2018
Was tut man als Band, wenn man im Proberaum sitzt und keinen Bock auf Proben hat? Man beleidigt sich gegenseitig, indem man sich extrem schlechte Witze an den Kopf wirft... ganz nach dem Motto: dümmer geht immer!
Also, Hirn ausschalten und sich von der äusserst anspruchsvollen 2. Episode von EMERALD TV berieseln lassen! 😜
Da die Episode in Schweizerdeutsch gesprochen ist, stehen bei Bedarf deutsche und englische Untertitel zur Verfügung.
Special guests in dieser Episode: Lea Klein, Steve Decorvet & Joel Binggeli
---
10.04.2018
Liebe Freunde der leichten Unterhaltung, willkommen zur 1. Episode von EMERALD TV, unserer band-eigenen Doku-Soap!
Falls ihr schon immer mal wissen wolltet, wie es bei Emerald hinter den Kulissen zu und her geht, habt ihr ab jetzt die Gelegenheit, alles rund um unsere Band hautnah mitzuerleben.
Da wir kürzlich umgezogen sind, soll diese 1. Episode hier dazu dienen, euch "Den neuen Proberaum" mal gründlich vorzustellen.
Enjoy! 😁
Da die Episode in Schweizerdeutsch gesprochen ist, stehen bei Bedarf deutsche und englische Untertitel zur Verfügung.
---
05.03.2018
Our next gigs!
---
19.10.2017
On 6th January 2018 we will play at the great ICE ROCK Festival in Switzerland. We produced a little promo video that shows our dedication to get ready for the arctic temperatures that will reign at this festival.
---
19.07.2017
We made a little promo video for our gig at Mannried Open Air!
Go to "Concerts" to learn more about the event.
---
26.03.2017
Heavy Metal and Horror Movies mix well! At least that's what we think... Here's our brand new music video "Only The Reaper Wins"!!! Enjoy the mayhem and feel free to share!!!
---
14.03.2017
Signing Session @ Ammann's World, Huttwil, Switzerland
1 Day after the CD release of "Reckoning Day" we will be at Amman's World to sign your copy! There's free Emerald beer for everybody and lots of merch to win!!!
1 Tag nach dem CD Release von "Reckoning Day" sind wir bei Ammann's World in Huttwil für eine Autogrammstunde zu Gast. Kommt vorbei und stosst mit uns auf unser neues Album an... Es gibt gratis Emerald-Bier und wir verlosen unter den Anwesenden auch einiges an Merch!!! 
Info: 
Website: http://www.ammann-world.ch/
---
03.02.2017
BIG NEWS: RELEASE DATE, ARTWORK, TRACKLIST & ALBUM TRAILER
It's time to finally reveal the essential informations around our new album "Reckoning Day":
Release date: 24th March 2017
Tracklist:
1. Only The Reaper Wins
2. Black Pyramid
3. Evolution In Reverse
4. Horns Up
5. Beyond Forever
6. Through The Storm
7. Ridden By Fear
------------------------------
THE BURGUNDIAN WARS
8. Mist Of The Past
9. Trees Full Of Tears
10. Lament Of The Fallen
11. Reckoning Day
12. Reign Of Steel
13. Signum Dei
14. Fading History
------------------------------
15. End Of The World (Limited Edition Bonustrack)
Line Up:
Marcel Hablützel (Mace Mitchell) - vocals
Julien Menth - guitars
Michael Vaucher - guitars
Vania Truttmann - bass
Al Spicher - drums
Thomas Vaucher - keyboards
Special Guests:
George Call - guest vocals on "Evolution In Reverse", "Through The Storm" & "End Of The World"
Slädu - guitar solo on "Horns Up"
Alexx Suter - backing vocals on "Beyond Forever"
The Album will be released as standard version CD and limited edition CD (inluding 1 Bonustrack & 1 Emerald Patch) at the same time.
The vinyl version will follow as gatefold double LP (incl. the same Bonustrack) later in April.
Those who know us, know what they will get with "Reckoning Day": Pounding drums, heavy riffs and melodic leads, reinforced with vigorous Power Metal vocals with balls and a transparent but also very powerful production by V.O. Pulver (Gurd, Poltergeist, Destruction).
On the second half of the album, we integrated a concept called "The Burgundian Wars" which is based on the historical novel "Der Löwe von Burgund" by our keyboarder Thomas Vaucher.
The album will be published via Pure Steel Records.
To hear some excerpts of all songs, check out our album trailer: 
---
10.9.2016
Here's the first sneak peek of the upcomig album. Enjoy!
---
WE PROUDLY PRESENT YOU THE NEW VOICE OF EMERALD !!!
We finally found the perfect candidate for Emerald's vocal duties! He's been a big part of the Swiss rock & metal scene for quite a while now and is best known for his work with bands such as Eddie's Beast, Silence Lost, Sag'em, Motorbaiks & Destroyer. 
It's the great......... (drumroll)........... Marcel Hablützel (aka Mace Mitchell) !!!
We are beyond stoked to have this amazingly talented singer within our ranks and are looking forward to hitting the stage with him!
Here's Marcel's statement about joining Emerald:
"I'm very happy to join Emerald and I believe we're gonna have a kick ass future together! So be aware and metal up your ass!!!"
Welcome aboard, brother !!!
---